OEM Integration Products & Services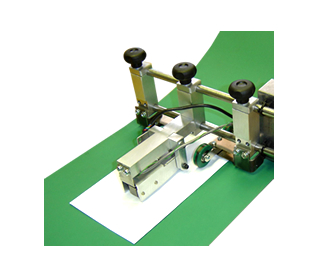 Products : MagVision™
In automated mailing systems, where closed envelopes are used, there was previously no non-destructive way to check and ensure that the address printed on the envelope matched the address for the recipient on the inside material.
MMD has provided the base technology for this exciting new Inspectron Ltd product. Using patent-pending technology, the MagVision™ intelligent scanning solution allows variable data codes to be 'read' through opaque material.
MagVision™ Features:
Allows variable data codes to be 'read' through opaque material
Can easily be integrated into traditional read and print applications with no mismatch between the sensitive contents and the addressee on the envelope
Typically used in conjunction with quality addressing applications, read and print mailings, and other secure personalised communication systems
Acts like a normal barcode scanner, with all the proven reliability of barcode technology
Barcodes can be prepared on most laser printers, without the necessity of special fonts or hardware modifications
Delivered as a turnkey solution, including all the hardware and software you need to start immediately
Benefits Include:
100% matching personalised enclosure with addresses on non-window envelopes
End of collation verification
Variable/personalised messages
Ideal For:
Disguised mail and security applications
Plastic card mailing applications such as credit cards, health insurance IDs, Social Security cards, etc
Statement applications
Personalised applications
Check mailing applications
Situations where customers are looking to reduce the cost of window envelopes
Any instance where hidden codes might be found on secure documents
For more information click here to go to the Inspectron Ltd website and find out more about MagVision.

ę Macon Management & Design Ltd (MMD) 2010. Macon Management and Design Ltd: Unit 4, Quakers Coppice, Crewe, Cheshire, CW1 6FA, UK
Tel: 44 (0)1270 250142 | Fax: 44 (0)1270 583517 | Email: enquiries@maconmgt.co.uk