OEM Integration Products & Services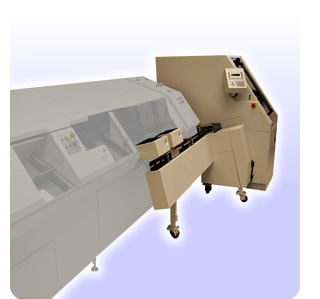 Case Study : Currency Bundler for De La Rue International Ltd, Irving, Texas
MMD were commissioned to design a completely new type of currency bundler for De La Rue International Ltd.
Supplying high-speed currency sorting machines worldwide, De La Rue manufactures machines that out-sort unusable currency and strap up notes that can be re-issued into packs. These packs normally contain 100 notes.
Requirement
De La Rue required a solution that would integrate with their existing technologies in order to automate the process of collecting packs of notes by bundling them into groups of 500 or 1000 notes.
By removing any manual element from this process, De La Rue would be able to offer its customers a solution that provided greater levels of integrity and security. As an additional requirement, six machines were wanted almost immediately for installation in Taiwan.
Solution
Working from a standing start, MMD developed a currency bundler that met all the requirements of De La Rue and the expectations of their customers. With machine designs approved, build was commenced and the first currency bundler machines were shipped within 7 months.
MMD has subsequently developed and extended the capabilities of its currency bundler range. To-date, over 30 machines have been shipped globally.
© Macon Management & Design Ltd (MMD) 2010. Macon Management and Design Ltd: Unit 4, Quakers Coppice, Crewe, Cheshire, CW1 6FA, UK
Tel: 44 (0)1270 250142 | Fax: 44 (0)1270 583517 | Email: enquiries@maconmgt.co.uk